DEVELOPMENT
Online systems
for business
We increase business efficiency through the design, development and implementation of business systems for small and medium-sized businesses.
To reduce the cost of manual processes
To structure information
For data updates
With a 12 months guarantee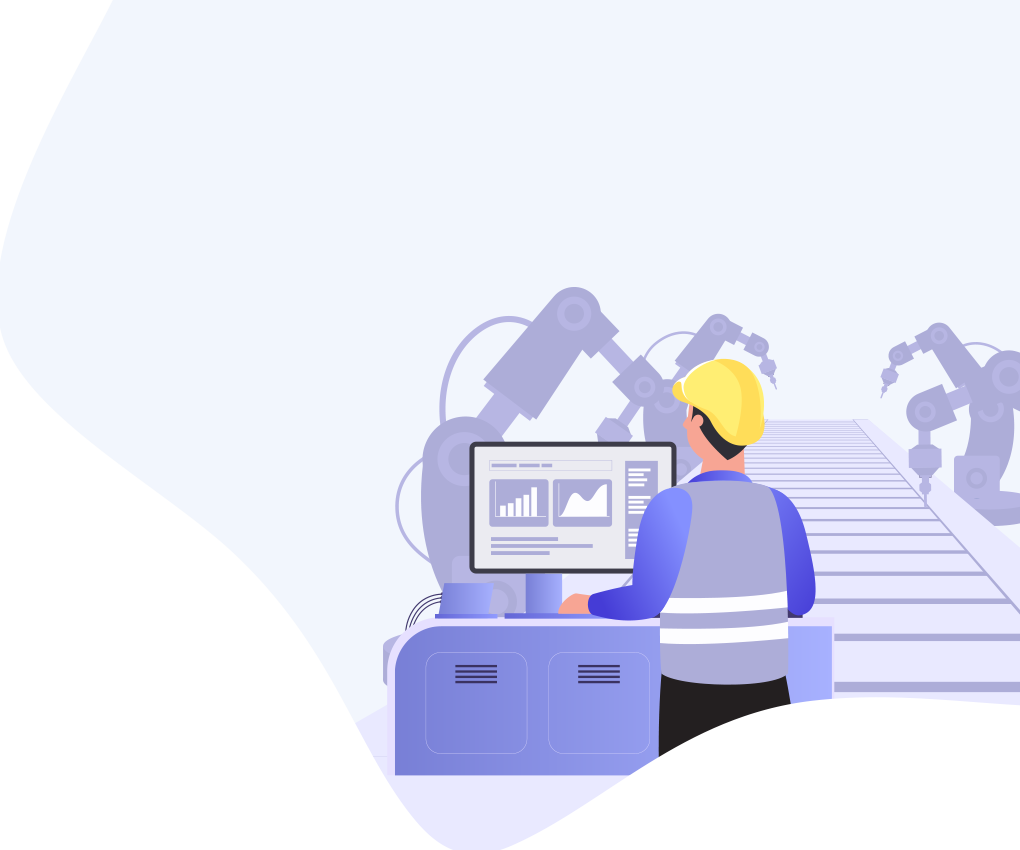 BUSINESS PROBLEM-SOLVING
What tasks does it solve?
01
Working time optimization
For businesses that uses complex mathematical calculations to generate commercial proposals. And also if it is required to enter the same data into different systems.
02
Data updates
Data aggregation from various sources and process it to display relevant information: on the website, in the internal system, for competitor analysis and analytics.
03
Manual process automation
Reduces human error, increases efficiency and minimizes errors through third-party integrations and consistent data validation. Repeatable tasks automation.
HOW TO USE IT
Business use cases.
Notification of responsible employees
Processing large amounts of data
Document flow automation
Parsers: data collection and analysis
Production process organization
Commercial offer generation
Sending data to the cash register (POS terminal)
Up-to-date warehouse data monitoring
Courier delivery planning
Marketing visualization analytics
FULL RANGE OF SERVICES
From development to maintenance.
We provide a full range of services: from prototyping and system development to support and maintenance.
1.Prototyping
Creation of a concept for business problem-solving, taking into account the users requests (employees).
2.Development
Step-by-step web system development, cyclic testing and implementation of improvements during the development process.
3.Implementation
Providing information and consulting, training employees to use the system. Implementing their improvements.
4.Maintenance
Functionality improvements and additional module implementation, taking into account the actual business needs.

Get a personalized offer.
Book your free 15-minute meeting within the next two hours.
PREPARATION
Design principles.
We follow the following basic principles when designing and describing the core concepts of a business system:
We research business processes in order to find an optimal solution


Involve potential users (employees) to take into account their experience


Minimize user actions by automating the work of the system


Forecast business needs


Do not replace, but supplement working solutions - you can still use the tools you are used to (for example, tables)
PRICING
Business digitalization is long and expensive?
The main advantage of implementing an online system for business is the results that it will bring. For example, you can reduce more than 1000 working hours per year. Moreover, the results of the system operation can be obtained immediately after its launch.

The cost of such a solution development depends on many factors. Check out some typical variations of business systems and their development costs.
FLEXIBILITY
Advanced control panel.
One of the important advantages of a business system is its adaptation to changes that are an integral part of a modern business.

All settings, coefficients and variables are transferred to the administrator section for convenient further editing.
GROWTH
Maintenance and support.
It is important for us to develop a business system that meets the set goals.
During the development process, we provide a demo version to demonstrate the work and adjust the functions of the system.


We provide consultations and training for system users (employees).


We provide a guarantee for the system, which we confirm through the BIYRO project management system.

Too much time
spent on workflows?
OUR APPROACH
How we work.
The average project development time is about 4-5 weeks from approval to launch.
Approval - 1 day

We confirm the tasks and goals, and determine the deadlines. We distribute the project according to the Agile method into development and payment stages.

Technical documentation - 7 days

We draw up a technical task, describing in detail the system modules, their functionality and purpose for different levels of users. We distribute the project into development stages and payment stages.

Project launch - same day

We launch the project in the BIYRO project management system and send it to you for confirmation. Then we start working on the first stage of the project.

Milestone development - from 14 days

We implement the functionality and visualization of the agreed modules. We create required interfaces to demonstrate the work of the system on a demo version.

Confirmation - from 3 days

Your confirmation of the milestone development through BIYRO, or your revisions.

Full testing - 7 days

As soon as all stages of development are completed, we check the quality of the system on different devices, browsers and screen widths.

Testing includes: checking the responsiveness of the layout on different devices (PCs, smartphones, tablets) at different screen resolutions, operating systems, browsers (Chrome, Mozilla Firefox, Microsoft Edge, Opera, Safari).

Project confirmation - 7 days

We use an additional time for you to play with the final version of the system. As a result, you confirm the project through the BIYRO system, or request a revision.

System launch on your resource - 5 days

We transfer the source code to your hosting or virtual server and do the final testing.
We fix the price at the beginning
Before starting the development process, we will make you a bid, which includes the final costs and delivery terms.

At the second stage, we create a brief or technical task (if the implementation takes place in milestones). At this stage, we describe in detail developed functions and page structure. We fix this data and the final price in the BIYRO project management system without the possibility of editing.

No additional payments are required in this case. The cost is fixed until the end of the work.
SECURE DEAL
On time development within the fixed budget.
Increase your business efficiency by implementing an online system to automate and optimize your work processes.
We guarantee full implementation within the stated period. Otherwise, we will give the money back.

We apply the necessary activities to ensure confidentiality and follow the GDPR regulations. When working with confidential data, we sign a non-disclosure agreement (NDA).
Quick launch
Prompt start of work without long waiting - within 3 days
Price and terms
We fix the price and approve the terms at the first project stage
Implementation
Product readiness according to the goals - 5-6 weeks
Hire us for business system development.
Contact us to get an offer
How much does it cost to develop a business system? (pricing)

The business system development costs depend on the functionality and the implementation of related modules. A correct commercial proposal is drawn up only after determining the key features of the system.

The average development costs for some typical solutions:

1) User account for business clients with data synchronization via third-party systems: about 950€
2) A set of forms for entering customer data and documents generation: about 900€
3) Product builder tool with marketplaces synchronization: about 2500€
4) Visual tool for the commercial proposal rendering: about 2900€
5) A business system for employees for organizing project management processes: about 8500€
6) Data collection and synchronization from various sources and displaying it on the company's website: about 6500€

What types of business systems can you develop?

Typically, modern business systems are combinations of several types.

Content and Marketing:

CRM systems - Customer Relationship Management
CMS - Content Management System
MAP - Marketing Automation Platform

Business processes:

ERP - Enterprise Resource Planning
BPM - Business Process Management
PIM - Product Information Management
MIS - Management Information System

As a Service:

SaaS - Software as a Service - providing the access to your system by subscription.

Open Source solutions vs Business system development from scratch?

Indeed, there are many free open source solutions available on the market. And it seems that there is no point in developing your own solution when it can be assembled from ready-made modules of an already working system.

This is true, but there are a number of nuances:

Not all elements can be edited and adapted for all business tasks
Each functional addition must be developed according to the system standards
Plugin development costs money
You may need to hire freelance consultants for setting it up
A number of the core functionality may be quite primitive
Some modules will be left as they are, and not as they are really required for business needs.

When does it make sense to use an Open Source solution rather than developing your own business system?

When the total cost of developing all the necessary modules is much lower than developing your own solution.

In other words, if you need to develop about 10 additional modules to extend an Open Source solution, then this takes about 1800 euros. However, there is a high chance that the same system can be developed with a budget of 950 euros.

Therefore, let's discuss your goals in order to make a commercial proposal and forecasts.

Zoho, Scoro, Microsoft Dynamics vs development?

When using cloud solutions, it is important to evaluate their pricing plans and various restrictions.

For example, the number of users. Often, cloud business systems plans provide a very limited number of concurrent users within the one plan.

The second aspect is the hidden charges that can arise as your business grows. For example, the connection of certain additional modules.

When does it make sense to choose a cloud solution rather than developing your own system?

When there is such a cloud solution that is designed specifically for your niche. I.e. professional personalized turnkey solution for your industry.

Why to develop a business system if you have Google Sheets, Trello, Zapier?

In theory, it is possible to build a business system by linking cloud applications such as Trello, Google Sheets, Jira, Google Calendar, etc.

To do this, you can use a "connecting" application such as Zapier or Integromat.

Indeed, such a method could be quite suitable for some simple tasks.

However, keep in mind that most apps will most likely require paid data plans. That can create significant monthly payment.

The second aspect is constant changes. You should manage these connections from time to time.

When does it make sense to build a solution from a combination of different systems rather than developing your own?

When you have simple tasks that do not require complex interfaces, and you use a minimum of different applications.

How is the guarantee applied?

The guarantee is a period of time, during which we are responsible for the developed software defects, if they arose through no fault of the customer.

Therefore, if there are any errors during the guarantee period, inaccuracies or inconsistencies with the technical task or its description, such updates are free of charge.

We also offer an extended guarantee - guarantee period extension. This is an additional service with separate payment terms. The monthly payment is agreed individually for each project.

BIYRO is the project management system that we use to make development deals.

Making a deal through the BIYRO system provides several strategic advantages:

The system generates all the necessary documents automatically.
We get your payment only after your confirmation. Until then, it is stored on the platform.
The terms are fixed in an annex to the contract.
A refund is possible if we, for some reason, do not complete the project in full and before the deadline.

We provide the secure deal concept.

Payment through BIYRO:

1) We create a project indicating its description, terms and payment terms.
2) You will get an invitation by email.
3) After your project confirmation, you make the first milestone payment to the BIYRO account.
4) The project is starting automatically.
5) We get payment only after your confirmation of the work performed.
PORTFOLIO
Examples of business systems.
In most cases, the business systems developed by us are internal and private tools for business maintenance. Therefore, the examples below show only a few business systems we developed.

Over the past 5 years, we have helped to optimize business processes for the travel business representatives, agencies, car dealers, online retailers, several manufacturing companies and cryptocurrency industry. REVIEWS
What our Customers are saying.
SkandiMotors

Latvia
Izveidojās ļoti veiksmīga un konstruktīva sadarbība. Darba uzdevums tika izprasts, piemeklēts labākais iespējamais ri...
Owner, Financial Services Company

Latvia
Thanks to 2410, the client's business has been automated and their productivity has increased by more than 80%. The c...
voprosmile

Latvia
Great job, Roman! It was very professional to work with you on my project
romansantonovs

Latvia
thanks Roman, fast delivery
romansantonovs

Latvia
very detail-oriented, understood all the requirements and implemented the calculator exactly how I wanted.
lolarocks2019

United Kingdom
It is always great working with Roman, He makes it clear what can be done and executes with extreme efficiency a true...
oppermancw

South Africa
Extremely fast response, delivered ahead of time. Even responding on feedback after initial delivery was nearly insta...
wdwitte

Netherlands
Roman is very good at communicating and narrowing down the job as clear as possible to assure to get the job done on ...
katarinaslemeni

Slovenia
Roman did a good job. Would recomment him.
renatoarrigo

Italy
Fast and professional
derwerbemarkt

Germany
Absolutely perfect work. Easy work together. Listened exactly and finished the work which we wanted
jeffreyito

United States
Excellent!